The Greater Erie Economic Development Corporation (GEEDC) was founded by R. Benjamin Wiley and J. Robert Baldwin in 1974. Originally, GEEDC invested in Erie Cablevision. Wiley and Baldwin hoped minorities and other marginalized individuals would be included in the construction and operations of the company. Additionally, the founders knew the cable TV industry would be a catalyst for change, offering training and job opportunities for Erie residents.
As an original investor in Erie Cablevision, GEEDC was able to use its return on investment to fund other projects. Cable stock profits allowed GEEDC to begin offering educational scholarships and business development programs for minority and underserved populations. In 1977, GEEDC purchased the property at the current location, 18 R. Benjamin Wiley Way.
FOUNDER – J. Robert Baldwin
ADMIN. ASSISTANT – Erika Rutkowski
VICE CHAIR – Vivian McCullum
TREASURER – Melvin Witherspoon
BOARD MEMBER – James Bowen
BOARD MEMBER – Corey Cook
DIR. OF MAINTENANCE – James Harper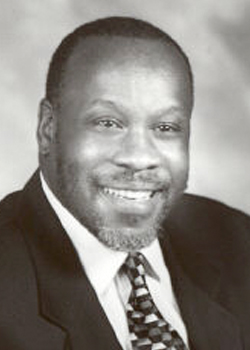 Benjamin Wiley, affectionately known as "The Colonel," graduated from Gannon College in 1967 with a bachelor's degree in urban systems. Upon graduation, he went to work at General Telephone Company for two years, and then, at the age of 24, was called to take over a dying anti-poverty program known as the Greater Erie Anti-Poverty Action Committee (GEAPAC), which would later be named the Greater Erie Community Action Committee (GECAC).
With planning, foresight and the assistance of his dear friend, former Governor of Pennsylvania and the nation's first Director of Homeland Security, Tom Ridge, Mr. Wiley not only turned GECAC into one of the best community action agencies in the commonwealth of Pennsylvania but also throughout the United States.
Through the success of the agency, Mr. Wiley became known at the highest level of politics from Erie, Harrisburg, Philadelphia, and Washington, DC and was invited to a presidential Inauguration. After making GECAC one of the most successful non-profits in the state, he wanted to do more for the minority community. Because of this, he, along with J. Robert Baldwin, created the Greater Erie Economic Development Corporation (GEEDC) and got federal approval to open business in March 1975.
To this very day, only a few individuals have personal knowledge whether Mr. Wiley was a registered democrat or republican. One may ask, why? Because he would always do what was most beneficial for the less fortunate, not for personal political gain. These were the early teachings of his mother, Clara.
Robert Benjamin Wiley was placed on this earth for a reason that no one can define. Many heard of him but only a few truly knew him. When you first met Ben, you wouldn't think he possessed the qualities of a leader or a teacher. One would say that he is just an ordinary guy doing his thing like most of us, but Mr. Wiley was all business. He was more than an outstanding basketball player and was an even better baseball player. But most of all, he was an educator, planner, forecaster, visionary, and had an eye for details.
Mr. Wiley would extend himself to assist anyone in need regardless of race, color, creed, or national origin. However, he focused on the needs of young people of color and senior citizens. He was always rooting for the underdog and worked with them to further their goals of owning and operating minority businesses, and because of his foresight, there were several minority entities that hung an "Open for Business" sign on their doors. He provided funding, accounting services, training, and the gumption to see them through all the ups and downs of owning a business.
Understanding that education is the key to getting out of poverty, Ben worked with a lot of young minds to make them successful adults through educational scholarships and personal meetings with him to ensure they were doing what they were supposed to and giving them much needed encouragement. Mr. Wiley pushed and assisted many of his teammates at Gannon to study hard and put the time into their academics. And those who followed his advice graduated with above average grades and honors. Don't get it wrong, if you didn't follow his advice, he had a way of making you see it "his way."
Though Mr. Wiley passed away at the age of 59, his teachings will never be forgotten nor fade away, because, what he has left is a life-long legacy that will carry Erie, Pennsylvania into and through generations to come.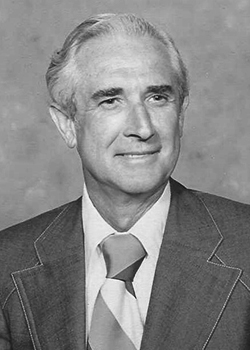 The life and legacy of J. Robert Baldwin, who founded GEEDC with R. Benjamin Wiley in 1974, was marked by a dedication to hard work, a commitment to community service, and a little bit of luck. The housing and real estate industries are an integral part of Mr. Baldwin's story. As a child, he worked for his uncle as a door-to-door sales person who knocked on doors of rental units to ask if individuals wanted to buy homes. At 16, he built, owned, and rented out his first home. At 29, he assumed ownership of Baldwin Brothers Inc., a business his uncle began that eventually became the foremost developer of real estate in northwest Pennsylvania.
Baldwin Brothers evolved as a company under Mr. Baldwin's guidance. During the Great Depression, when individuals were not purchasing homes, the company leveraged FHA grants to stay afloat. In the commercial sector, the company focused on building gas stations across the region. Then, it worked to create office spaces for computer companies in Erie. Based on the success of various development projects, Baldwin Brothers expanded operations to other parts of the state and nation. Mr. Baldwin's commitment to serve the community guided his business decisions and the expansion of the company's operations.
A graduate of Strong Vincent High School, Mr. Baldwin attended Cornell University but had to drop out to help with his family's business when his father and uncle became ill. He considers himself a lucky individual who was able to avoid hazardous combat in World War II as a result of being recruited for the Engineer Corps. Mr. Baldwin served in a truck company behind the front lines in France and was discharged from service as a captain.
Mr. Baldwin was personally involved in several Erie organizations including the Erie Redevelopment Authority, Erie Metropolitan Transit Authority, Harborcreek School for Boys, Crossroads, Greater Erie Community Action Committee, the Martin Luther King Center, and the Community Country Day School. He served on the board of the Greater Erie Industrial Development Corporation. Mr. Baldwin was Involved with Mercyhurst College and was instrumental in changing the all-girls college to a co-ed institution.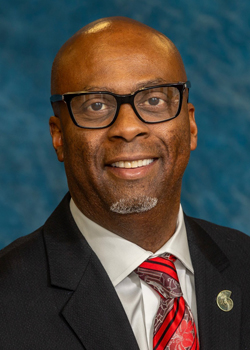 Chief Executive Officer
Gerald L. Blanks
Gerald Blanks has served as the Chief Executive Officer of the Greater Erie Economic Development Corporation (GEEDC) since 2021. Mr. Blanks has been involved with GEEDC since 2008, when he first became a board member. He was named Board Chairman in 2019 and is committed to the organization's goal of providing educational scholarships, pre-apprenticeship training and grants to help ethnic minorities advance their education and careers.
Previously, Mr. Blanks enjoyed a lengthy career for a local social services agency, last serving as its Associate Vice President of Human Resources. He is an active member of the Erie community having served on the boards of Young Erie Professionals, the American Red Cross, the Diversity, Equity and Inclusion Council for the County of Erie and Diverse Erie, formerly known as the Diversity, Equity and Inclusion Commission for Erie County.
Mr. Blanks currently serves as a Trustee at Gannon University, an Erie Action Team member for Infinite Erie and the Non-Profit Partnership Board. He is also a member of 100 Black Men of America, a mentoring organization for young Black Men.
Originally from Barberton, Ohio, Mr. Blanks came to Erie in 1988 to attend Gannon University on a basketball scholarship. While at Gannon, he enjoyed success both on the court and in the classroom and graduated with a Bachelor of Arts in Administrative Studies. Prior to that, he earned an Associates degree in Business Administration from Iowa Western Community College. In 2014, he attained his Master's degree in Organizational Leadership from Mercyhurst University.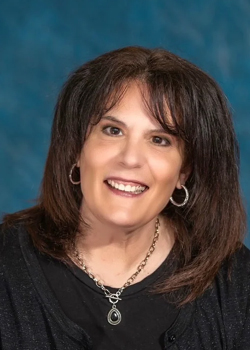 Administrative Assistant
& Scholarship Coordinator
Erika Rutkowski
Erika Rutkowski serves as GEEDC's administrative assistance and scholarship coordinator. She is responsible for office duties and educational scholarships. She has a Bachelor of Science in education from Edinboro and a Master of Arts in reading from Edinboro. Ms. Rutkowski has 23 years of experience in the field of education. In addition to her job at GEEDC, she works full-time for Erie School District as a literacy specialist.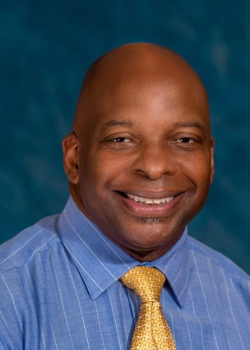 Ronald J. Bryant received his bachelor's degree in criminal justice from Mercyhurst University.  He obtained his master's degree in the Administration of Justice Program, also at Mercyhurst University.
Ron has been employed in the corrections field for the past 28 years.  He has also worked in the Office of Children and Youth, Edmund L. Thomas Adolescent Center, and Perseus House Inc.Ron has been a member of the GEEDC Board since 2019 and previously held the position of treasurer. He is currently active on other boards within the Erie community that help the homeless population of this city.
Ron has been active in youth athletics, serving as a coach for football/flag football, basketball, and soccer. Additionally, he served as the director of athletics of his children's school. Ron has a passion for working with the youth whenever possible.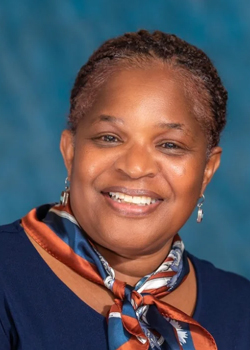 Vice Chair
Vivian McCullum
Vivian D. McCullum, vice chair of GEEDC, began her affiliation with the board as the office manager where she is credited with creating procedures that would later help the board, staff, and current tenants with their office communication networks.
She brings a wealth of knowledge from both the non-profit and private sectors as she has experience working in both. Vivian is a former employee of GECAC where she spent 26 wonderful years serving the Erie community.
She is now employed with the Northwest Pennsylvania One-Stop, better known as the CareerLink, working to serve Erie's marginalized communities. Vivian's passion is to serve Erie's impoverished communities that she was once a product of.
By self-determination and perseverance, she managed to attain economic mobility. Ms. McCullum earned her associate's and bachelor's degrees from Mercyhurst University while sustaining full-time employment. She is a candidate for her Master of Arts degree at Edinboro University.
She previously served on the Sarah A. Reed Retirement Center and Erie County Diabetes Board of Directors as well as serving as the safety and activities committee chair.
Raised and educated in the Erie public school system, she has volunteered with Serve Erie, The Caring Place of Erie, The Hammermill Hounds Neighborhood Association, and Erie Together as a peer mentor. Vivian has years of experience in fundraising.
Vivian is the mother of four, but her most cherished accomplishment has been helping to raise her four grandchildren. Vivian hopes that her life experience will assist other single mothers overcome the vicious cycle of poverty so that they can become more economically self-sufficient.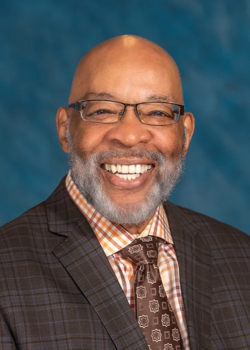 Treasurer
Melvin Witherspoon
Melvin Witherspoon is the treasurer of the GEEDC Board of Directors. A recent retiree, Mr. Witherspoon last worked as the northwest regional director for the state auditor general. Prior to that, he was the northwest regional director for the Penelec Electric company.
Mr. Witherspoon has served on countless boards throughout Erie County including Rotary, the Housing Authority, and the Children's Advocacy Center. He is serving his 17th year as an Erie city Councilman. Throughout his life, Mr. Witherspoon has been an advocate for Erie's youth and a voice for the underserved populations throughout Erie County.
His efforts have been recognized by the number of awards he has received including the R. Benjamin Wiley Award for Community Involvement; the United Way of Erie County David John Dever Memorial Award for Outstanding Community Service, Dedication and Leadership, and Penelec's Outstanding Speaker Award five years in a row. Mr. Witherspoon was also recognized for his athletic accomplishments and was inducted into the Pennsylvania Athletic Hall of Fame, Erie Chapter, the Gannon University Hall of Fame (team and individual), and the Newark, New Jersey Athletic Hall of Fame for basketball, football, and baseball.
Born and raised in Newark, New Jersey, Mr. Witherspoon played basketball at Scottsbluff Junior College in Nebraska before coming to Erie to attend Gannon College, where he received a basketball scholarship. Mr. Witherspoon earned his bachelor's degree in marketing and economics from Gannon.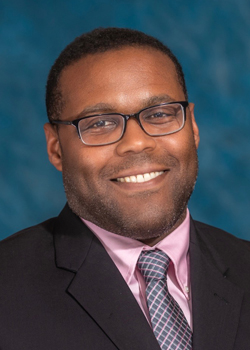 Evan S. Tucker holds the position of board secretary at GEEDC.  Evan is a licensed professional counselor at the Mind Body Wellness Center of the Meadville Medical Center.
His professional career spans 24 years and includes employment in the areas of mental health, behavioral health, residential treatment facilities, school-based programming, community outreach, private practice, and wellness and fitness.
Evan earned a Bachelor of Science in psychology from Penn State University in 1996 and a Master of Arts in clinical psychology from Edinboro University of Pennsylvania in 2005. Evan completed post master's work in counseling psychology and earned his state license and national counselor certification.
A lifelong resident of Erie, Mr. Tucker's community involvement includes having volunteered for St. James African Methodist Episcopal Church, Junior Red Cross, Cub Scouts, and Habitat for Humanity. He is an active member on many community boards including Erie County Diabetes Association, Greater Erie Alliance for Equality, and Crawford County CASA.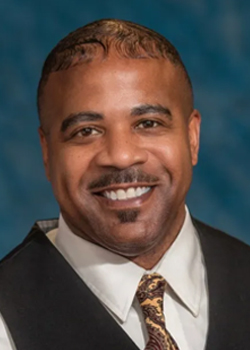 Ric Giles, a member of the GEEDC Board of Directors, is currently the director of philanthropic services at the Erie Community Foundation. He has extensive experience in sales, marketing, and education, as well as a commitment to organizations that better the Erie community.
Mr. Giles worked in the healthcare industry as a sales and marketing specialist for two major pharmaceutical companies and then as operations manager and marketing director for a medical imaging and radiology clinic. He also has experience in the field of higher education, where he was an admissions counselor and recruiter for Penn State University. Mr. Giles started his career as a case manager for GECAC in the drug and alcohol division; he worked alongside the criminal justice system to help clients with recovery and addiction.
A native of Erie and a graduate of the Erie public school system, Mr. Giles graduated from Clarion University on both academic and athletic scholarships. At Clarion, he was involved with a number of collegiate groups and campus government activities that were paramount to campus diversity and overall growth.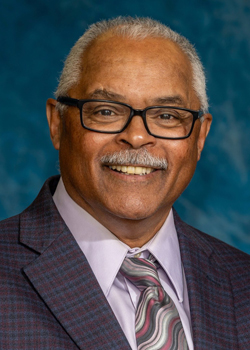 GEEDC Board Member James E. Bowen is committed to serving the Erie community. Through his lengthy career in the hospitality industry, tenure as the Penn State-Behrend golf coach, and time volunteering for community organizations, Mr. Bowen has demonstrated his dedication to improving the lives of Erie residents.
Most of Mr. Bowen's career was spent at Penn State University, where he served as the assistant director of housing and food services. In addition, he was the assistant coach and then head coach for the college's men's and women's golf teams for more than two decades. Before joining the Penn State staff, Mr. Bowen worked in the hotel business in Rockville, Maryland and for the Pennsylvania Unemployment Office.
Mr. Bowen is a native of Franklin, Pennsylvania and attended Bryant & Stratton Business College in Buffalo, New York, where he graduated with a degree in business administration in 1978. He also served on the board and as chair of the Greater Erie Community Action Committee. Mr. Bowen is a member of the grant approval committee for The Erie Community Foundation.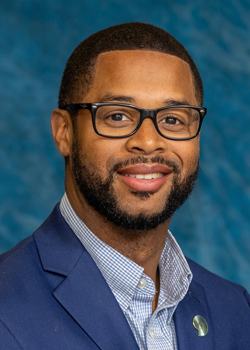 Corey Cook, a member of the GEEDC Board of Directors, is a passionate community leader and creative professional dedicated to empowering and inspiring others through music, media, and service. As a musician, photographer, and videographer based in Erie, Pennsylvania, he utilizes his artistic talents to uplift his community.
Mr. Cook founded Lifethrumusic, a non-profit music mentoring program, where he has mentored over 500 young, aspiring musicians in Pennsylvania and New Jersey. He also operates his own media company, CookMediaLLC, providing photography, videography, and content creation services to local businesses.
Currently, Mr. Cook serves as the director of operations & logistics for the Erie Downtown Development Corporation, overseeing day-to-day operations of a $110 million investment into the core of downtown, which is spread over 3 city blocks. This investment aims to revitalize Erie's downtown and drive long-term economic development and sustainability.
He has been involved with various community organizations and initiatives, earning numerous awards and honors for his civic contributions over the years.
A lifelong resident of Erie and proud East High School alum, Mr. Cook is committed to driving positive change in his hometown. Through his arts, media services, and extensive community engagement, he strives to empower youth, support local economic development, and create a lasting impact.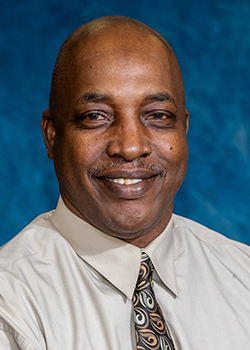 Director of Maintenance
James Harper
James Harper has worked in the field of maintenance for over thirteen (13) years and joined the GEEDC staff as its director of maintenance in January of 2023.  Prior to joining GEEDC, Mr. Harper worked for fifteen (15) years as a foundry worker in various capacities, last serving as maintenance personnel and molding fabrication.  James oversees and mitigates all building maintenance issues and works independently with various subcontractors.